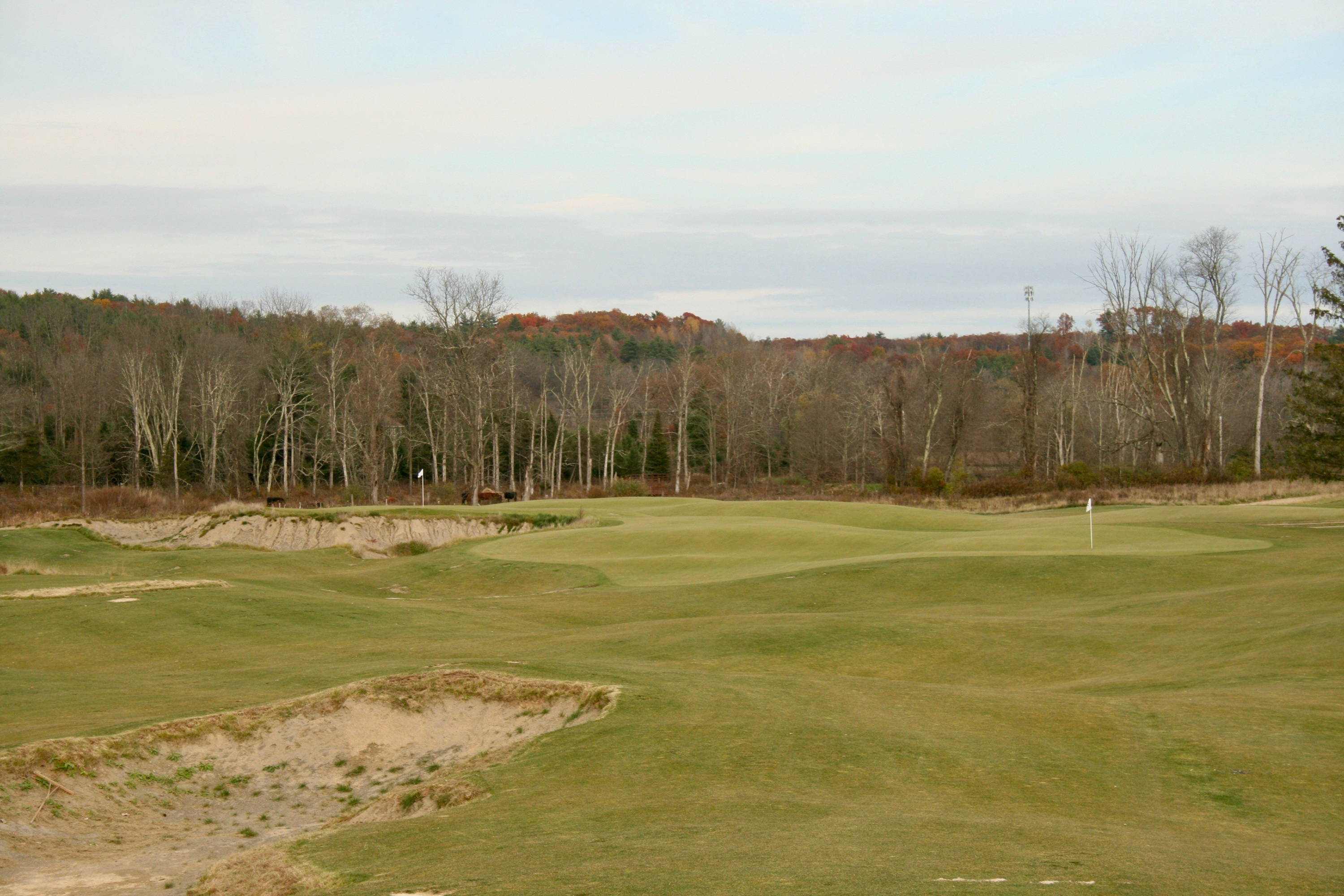 Fall is peaking in southern Westchester. The leaves have turned beautiful shades of burnt orange and yellow and we're enjoying another relatively mild day, the kind that you can't take for granted when it's this late in the season. Today I'm making a nearly two-hour trip up to the Catskills region to check out a new golf course. As I drive further north approaching my destination I feel the grip of winter tightening just ever so slightly. The trees looking a little sparser, and the sun even seems to have disappeared behind a layer of clouds. The name of the course I'm visiting is Inness Golf, and it's been on the top of my list ever since I read about it months ago in a Vogue article. Yes Vogue. That alone suggests that this isn't your average golf course. INNESS, as it's stylized online (named after George Inness, master painter of the Hudson River School), is a new resort located in Accord, New York that opened its doors to the public back in July.
The man behind it all is none other than Taavo Somer, known in NYC circles for founding the iconic Lower East Side establishment Freemans that helped inspire a generation of bearded, flannel wearing hipsters. Somer is not a golfer himself, and he never cared for the elitist country club atmosphere. But he's observed the recent trend towards making golf more inclusive and less pretentious, and the way the sport brings people together to enjoy the outdoors resonates with him. Inness Golf is very much designed with this spirit in mind.
Somer, now 48 and a father, has left his city days behind for greener pastures upstate. Having already opened the successful Hotel Kinsley and Lola Pizza in nearby Kingston, Somer's new focus became a more rounded resort experience that showcases all the Hudson Valley can offer. Compared with Hotel Kinsley, which is situated right in the town of Kingston; Inness's location is a bit more remote, and is centered on the nature and scenery that surrounds it. It's a large, spread out property with a 12-room guesthouse and 28 cabins dotted throughout the Miranda Brooks designed grounds. Outdoor activities are a focus, with swimming, tennis, and hiking on offer, and of course, golf.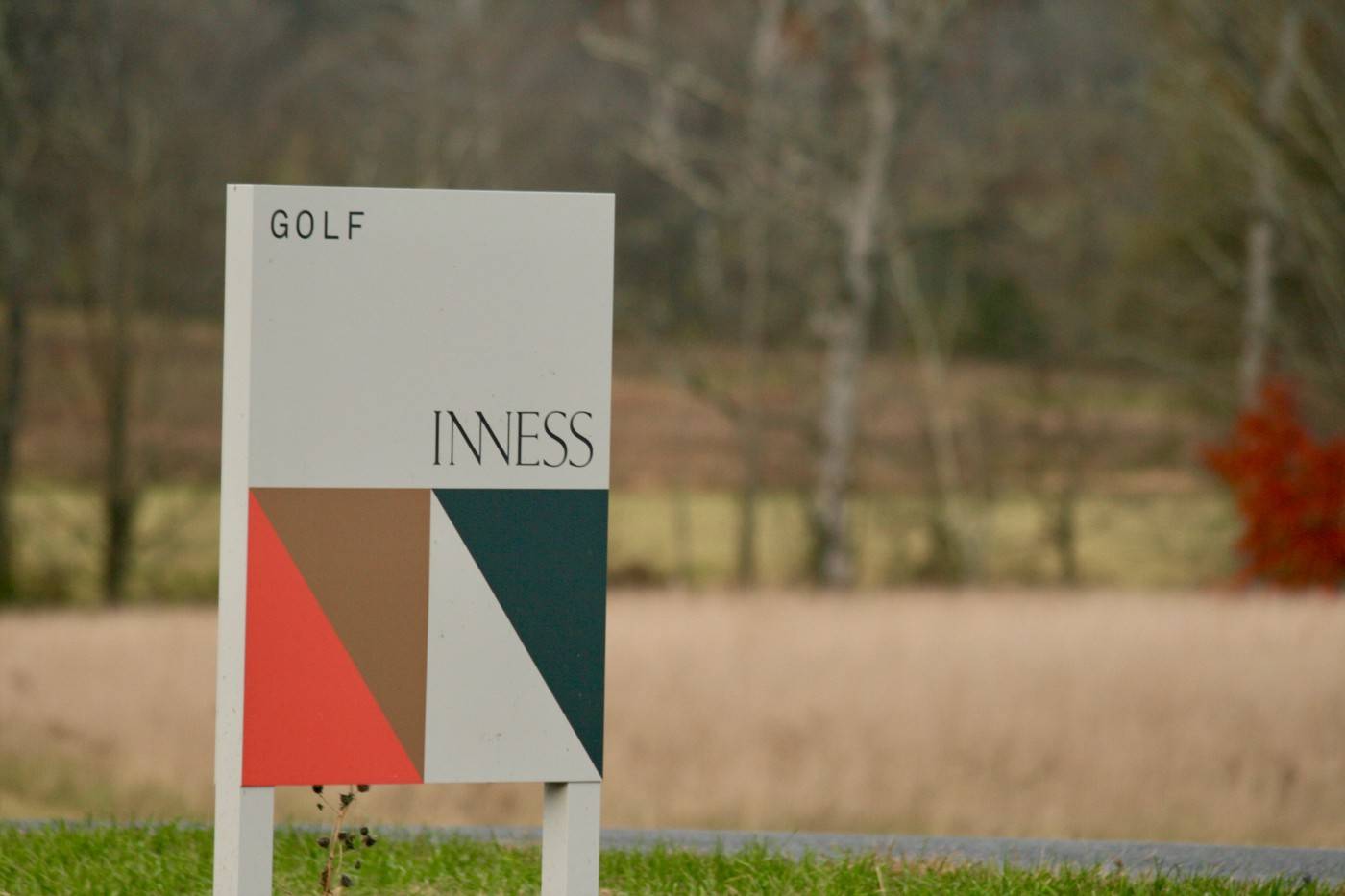 The sign that greets visitors as they arrive at the course. Details matter at Inness.
To bring his vision to life, Somer turned to the dynamic duo of Tad King and Rob Collins. King-Collins are the masterminds behind Sweetens Cove Golf Club, a nine-hole track in Tennessee known for supersized, Himalaya-style greens, and an unconventional routing that can be played in different orders. King-Collins' design philosophy is unique in that it subverts the expectations of traditional course design, and yet remains in close conversation with the Golden Age architects like Tillinghast, Ross and Mackenzie. In its short life span, Sweetens Cove has already developed a cult following and attracted investment from the likes of Peyton Manning and Andy Roddick. Like Inness, it's a public course, but due to its insane popularity, getting a tee time there is akin to scoring a reservation at Rao's.
So with these impressive credentials in mind, I was very curious to see if Inness could live up to its moniker of "Sweetens' Back Nine." If you're expecting to be greeted with valet service and to have your clubs loaded into a cart then you'll be disappointed. There's one guy in the meticulously curated, yet minimally stocked golf shop. He's there to man the cash register, provide you with tees, pencils and scorecards, and answer any questions you might have, but that's about it. I told him that I'd be taking my time snapping photos and I didn't want to hold anyone up, to which he responded not to worry. That's the sort of vibe they're looking to create here. As stated on the website, walking is encouraged, large groups are allowed so long as they don't hold up play, and proper golf attire is optional. So wear what you feel comfortable in, we're all adults after all. That's the beauty of it; each person defines their own experience. As long as your enjoyment isn't coming at the expense of someone else, then there won't be any problems.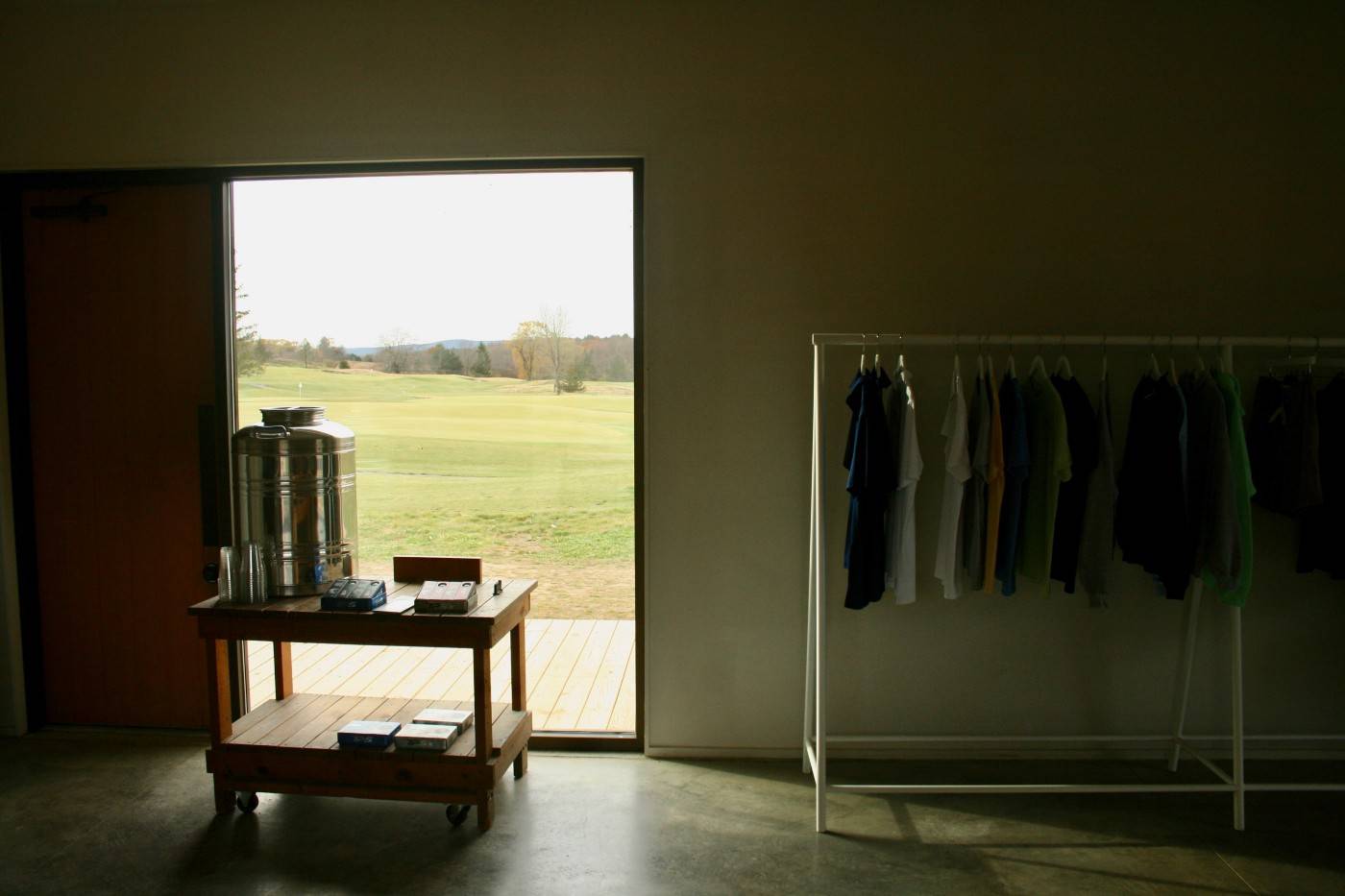 A simple, yet refined shop. With merchandise selected by Somer himself, ACL Golf's Michael Williams, and the Brooklyn-based outfitter Adsum.
The course plays to a par 36 and stretches out to 3,361 yards from the tips. The first hole is a medium length par four, and provides a preview of what you'll be seeing for most of your round: interconnecting fairways, cavernous, rugged bunkers, massive, undulating greens, expansive views across the property, and an open, links style layout where playing the ball along the ground is generally encouraged. Like at Sweetens, some of the greens are almost cartoonish to a point where a purist might deem them 'unplayable.' But that's sort of the point at Inness; it's not a course that's concerned with being a true and fair test of the golfer's capabilities. It's about enjoying yourself, and leaving your ego, as well as any preconceived notions of a traditional golf experience, behind.
Many of the fairways and greens flow into one another, making it unclear where one ends and another begins, and allowing you to play the hole from the adjacent fairway in some cases, which I seemed determined to test out on the day. Double greens are obviously nothing new to golf, but they've been out of style for quite some time. And the double greens at Inness are very special (this comes from someone who's played the Old Course). Just take the sixth, for example, which is divided into two sections, and then snakes around a massive bunker until it becomes the third green, which seems to just climb and climb upwards. And the third hole is no joke. It's a 200 yard par three with an uphill tee shot that makes it play even longer, so good look with that.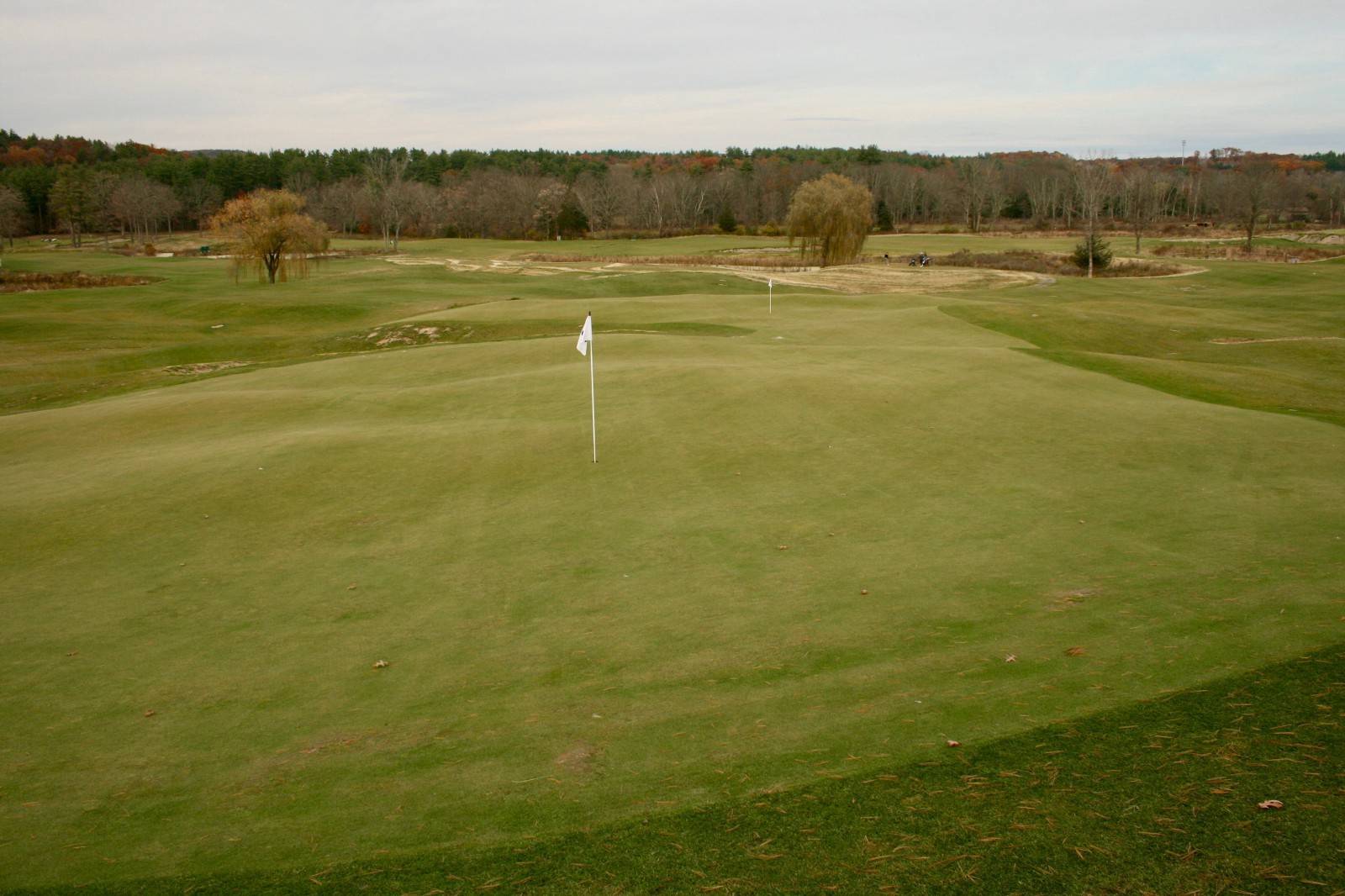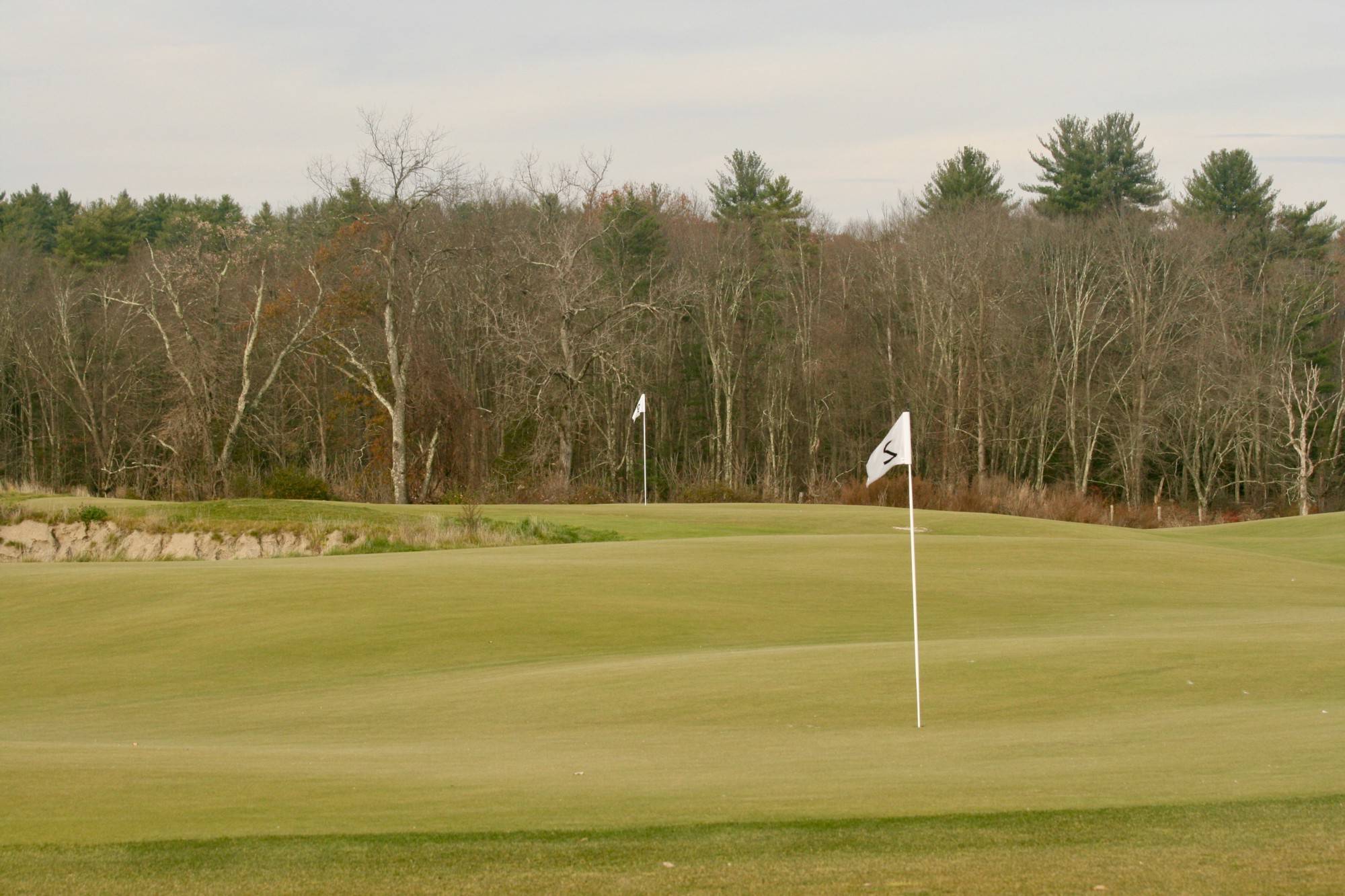 Two examples of double greens at Inness: the aforementioned third green, with the sixth green connected to it well below (top); and the visually striking second and ninth greens (bottom). Just look at those slopes.
The fourth hole presents perhaps the most challenging tee shot on the course, with the whole left side out of bounds, and a penalty area pinching in from the right. However, navigate the tee shot well and you'll have a fairly simple layup or go at the green. True to the course's links DNA, there isn't anything stopping you from grabbing a long iron and punching it 200 yards plus down the fairway. The seventh is another tricky tee shot. The fairway bends to the left, so if you hit straight out with too much club you'll find trouble, but the left is no good either.
It's a similar theme with the closing hole, a 576-yard par five. Naturally, you'll want to hit driver to give yourself a shot at making the green in two. But the fairway narrows as it approaches the 300-yard mark, so you'll have to calculate the risk you take on accordingly. And make sure to clear the green promptly, not because there's anyone behind you, but because ending up downwind from the adjacent cow pasture is inadvisable (I can say this from experience).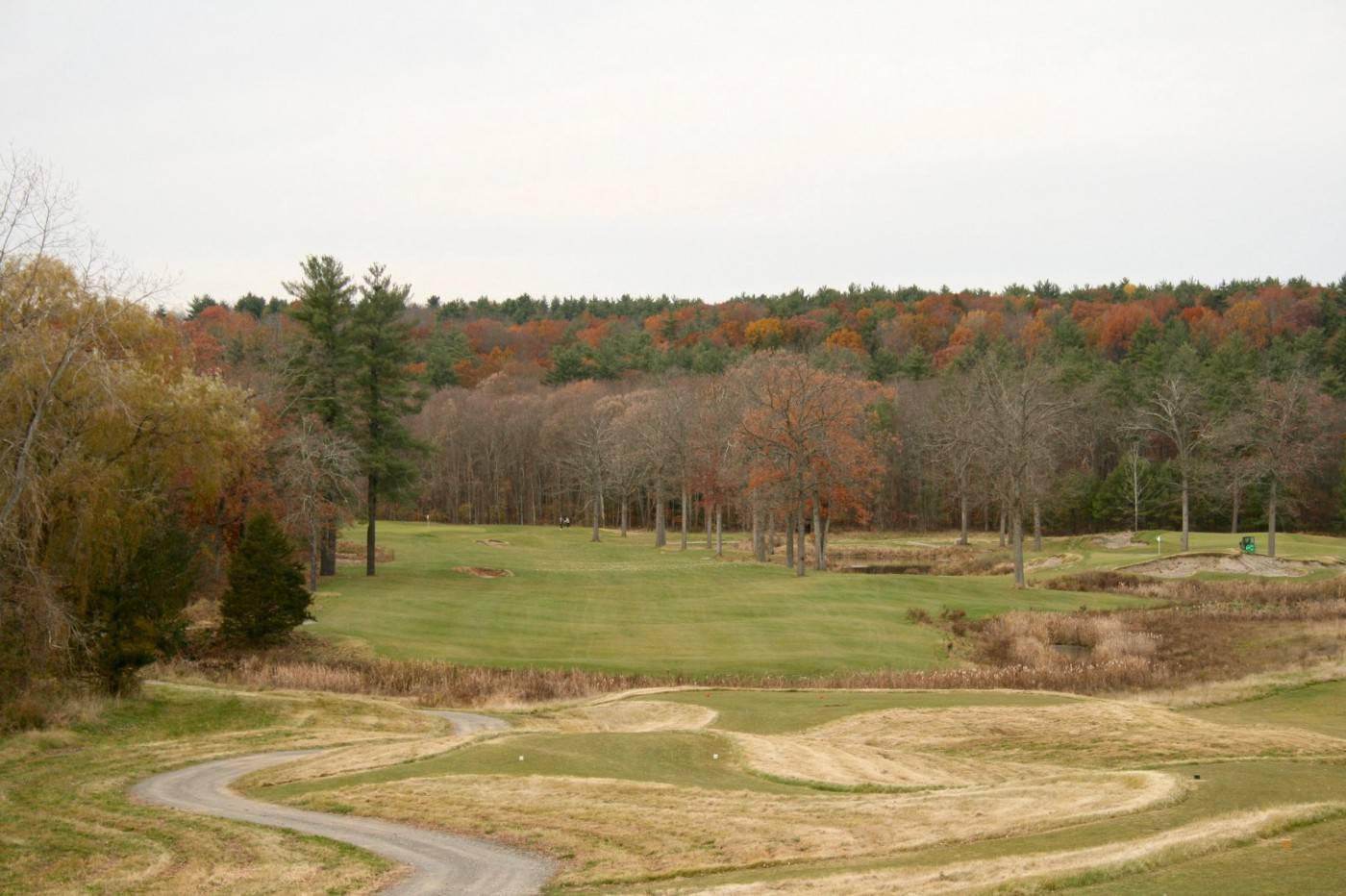 A look at what faces the player on the fourth tee. A forced carry, with OB left and a penalty area right.
As for the 19th hole (or the 10th in this case), there is none. You can head over to the resort's restaurant, which offers handcrafted cocktails and local beers. There's also a highly rated brewery right around the corner called Arrowood Farms, and the cozy town of New Paltz is only 20 minutes away. And to answer the question of whether Inness lives up to the hype, I'd say absolutely, and I can't wait to come back in the spring with friends.