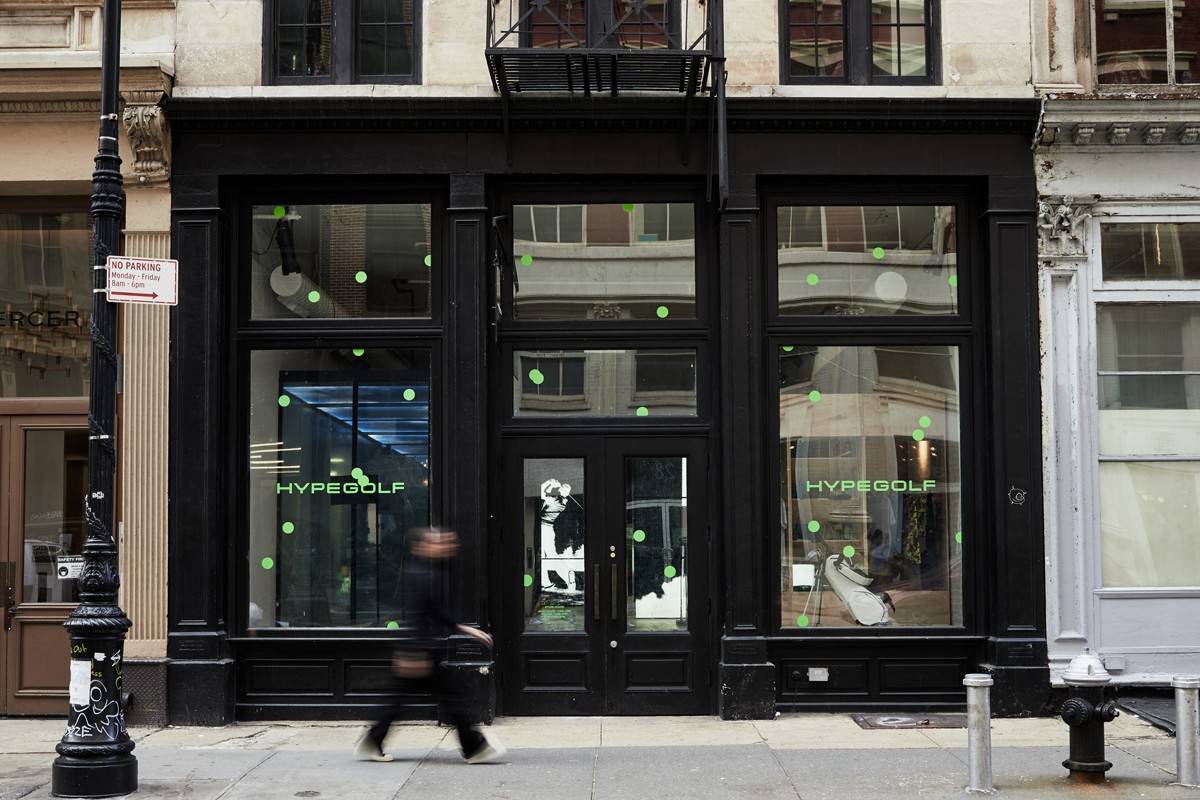 In golf, the word "clubhouse" evokes luxury. Wood paneled walls, full service locker rooms and formal dining. Famous examples include the one designed by Stanford White perched atop Shinnecock Hills and the stately Tudor style clubhouse at Winged Foot. There are of course modern versions, like the ultra-sleek, 15,000 square foot structure at Michael Jordan's Grove XXIII. The most impressive ones tend to loom over the 1st tee and 18th green, making a statement as to the stature of the club.
Located on Mercer Street in Manhattan, just north of Canal where Soho turns into Chinatown, is a reinterpretation of the clubhouse. This one doesn't belong to a golf club, but rather to Hypegolf, Hypebeast's still relatively new golf-centric vertical. It's a retail space showcasing golf goods from Radda and other brands that are pushing the aesthetic and culture of the game forward. Radda Golf had the opportunity to attend the opening night party on May 12th, and then return a few days later on a quiet Tuesday afternoon.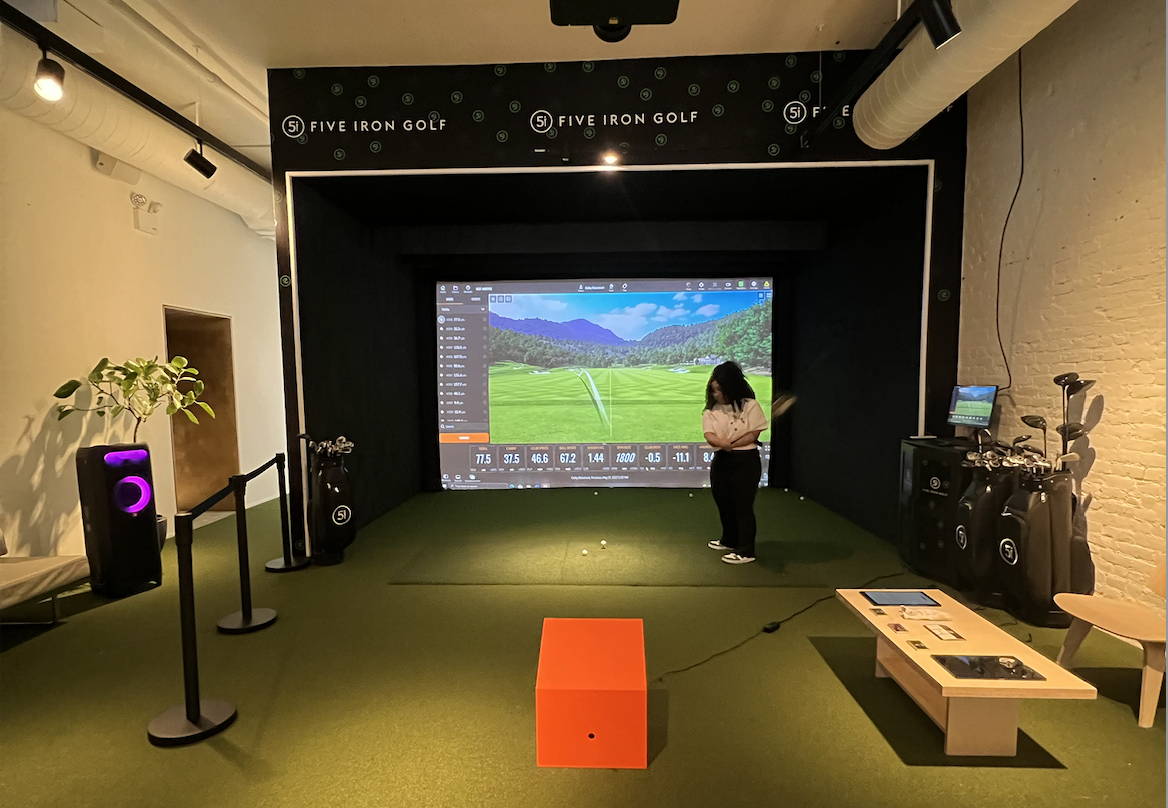 On opening night, I arrived at the storefront to find a queue you'd expect to see outside a nightclub. As I spoke outside to a few people I knew, a guy blurted out "that was Frank Ocean," who evidently rode by on his bicycle, and I completed missed it. I was both disappointed to miss out on another celebrity sighting (as I tend to do), and baffled as to how he could ride over the harsh Soho cobble stones.

Inside, the space was packed with sartorially inclined, good looking people. Libations were being poured out by Herradura and Michelob, and two DJs were setting the mood immaculately. The front of the store featured racks of clothing and a "surreal landscape" art instillation. In the back, there was a practice green for demoing putters, although you wouldn't have known by the amount of people mingling over it. Next to that was a simulator sponsored by Five Iron Golf, outfitted with Trackman 4 and a selection of PXG clubs.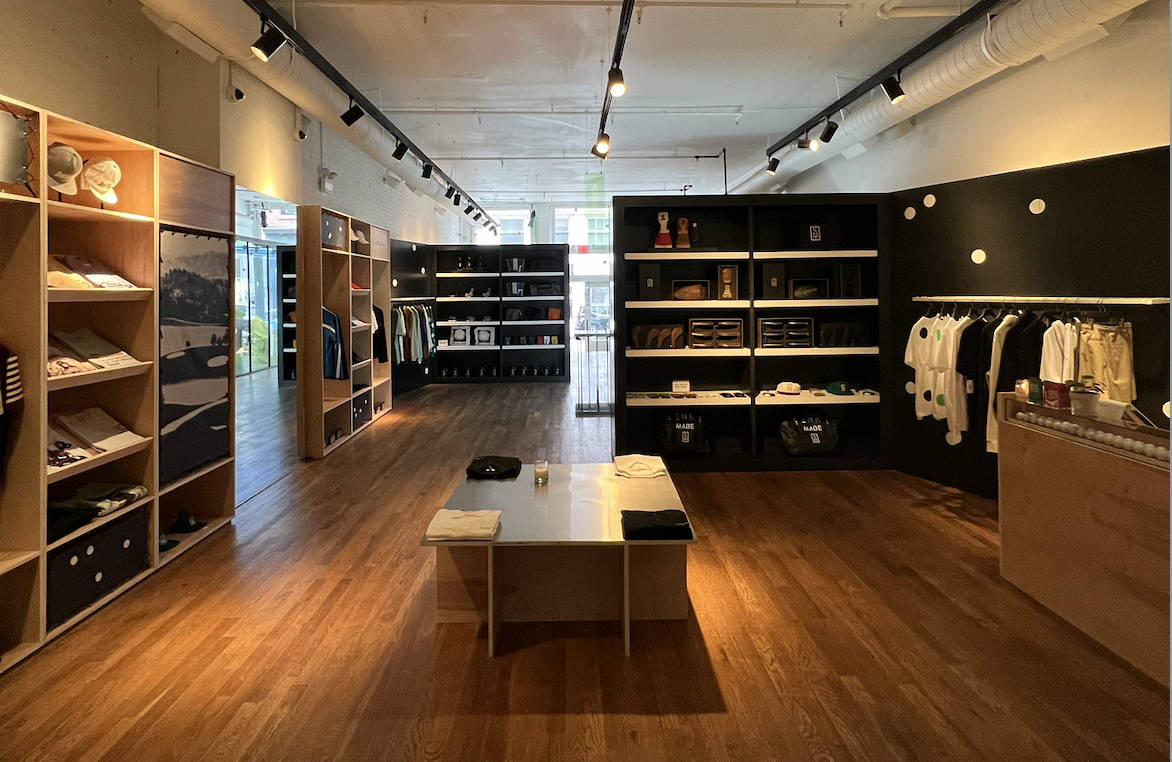 To varying degrees of success, guests tried their hand at hitting the notoriously difficult par 3 15th hole at PGA National. Some knew what they were doing, and some looked like they might be holding a club for the first time. But that's really the point of it all. Hypegolf is about embracing diversity, inclusion and showing people that the sport isn't just for low handicappers, it's for everyone. As the night wore on, good friend of Radda Golf, NYC's own Tiger Hood did his thing outside and attracted passers-by.
Returning a few days later, a man outside the store beckons people to enter and "play some free golf." It's not exactly the kind of thing you expect to hear walking through Soho, but it speaks to experiential concept behind the store. The simulator, putting green, art installations, educational panel "Hypetalk" discussions and long drive contests make for an all around interactive experience that will engage the local community. It's a tried and true method that retailers are returning to now, even despite the huge rise in online shopping brought on by the pandemic.
The Hypegolf Clubhouse is open until July 14th, and will showcase brand new product from our SS22 collection 'Super Shot' as it releases throughout June.